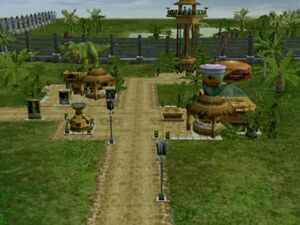 Food stalls are bulidings that provide food to visitors
Original Design
Edit
In most screens and trailers the Food stalls had a Burger Balloon, and a Model of a Sub. It's primary purpose is to give food to your visitors. It also has a Rest area (but visitors don't use this.)
List of items
Edit
The list of items include Meals and Side orders( you don't need a side order )
all that you can change the price of.
Meals: Side Orders:
Edit
Rex Burger Paleo Salad
Edit
Thrill'n Chilli Fun Fries
Edit
Sandwiches
Edit
- In Jurassic Park Park Builder, there is a Restaurant called Rex Burger.
- The Restaurant only seems to have food and not water, but there are two vending machines (for display.)
- In the Final Design The sub model was replaced with a Drink model.
- The old design can be brought back by modding.
- The old design appears in screens for excersises.
- There is a Rest Area where the visitors can rest( through like the vending machines its for display.)
- All item's names have something to do with the game ( except for the sandwiches.)